Benefits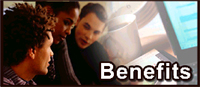 The Employee Benefits Department of The Potter Financial Group and Digital Insurance have formed....
A Strategic Partnership....
A Poweful Alliance For You
Announcing Potter Financial Group's alliance with
Digital Insurance
Strength, experience and even greater resources– those are the powerful advantages you gain from Potter Financial Group's alliance with Digital Insurance.  Since our goal has always been to provide you with the best possible service, our alliance with Digital will ensure that you continue to receive the highly personal service you have come to expect from us as well as expanded resources.
Digital's philosophy of serving, based upon Knowledge, Experience and Integrity, aligns with our own.  Their clients range in size from 25 to 7,000 employees in 31 states, and they offer alternate funding arrangements, on-line enrollment services, claims intervention and compliance assistance.  Their expanded network of legislative resources and updates will help keep you informed about changes in the benefits arena.  With offices in Durham, Raleigh and Sanford your account management service is nearby.
 Helping you improve business performance.
Employee Benefits
Your people are your most valuable asset.  We help you find the best solutions to aid you in recruiting, retaining and rewarding employees.  We can provide solutions for your Human Resources and benefit design needs by offering unique plan designs, proprietary products and carrier relationships that facilitate your organization's productivity. And because we are relationship driven, we work to keep you informed, efficient, effective and positioned to take advantage of opportunities in the marketplace. We can help you with:
Medical Insurance - HSA's & HRA's

Dental and Vision Insurance

Life Insurance

Short & Long Term Disability Insurance Protection

Long Term Care Insurance

Voluntary Benefits (Cancer, Accident,

Critical Illness, Disability, Life and Dental)

Employee Education and Assistance

Human Resources Consulting

Legal Services Plans

Medical Supplement Plans

Compensation Consulting

On-line Enrollment

Benefit Websites

Benefit & Compliance Audits

Section 125 Flex Plans
Technology Services    
Our firm has access to technology strategies that transform the delivery of HR services to your managers and employees, while leveraging the value of your corporate HR and benefits information.
Through customized and secure Websites, your employees can access benefit information and can carry out tasks, such as benefit enrollment, medical plan comparisons, and employee benefits surveys. We help your HR Department by focusing on strategies that support vital business issues, such as the acquisition and retention of your company's most vital asset--its people.
Value  
Because of our broad understanding of the corporate benefit planning process, we serve as valuable resources to you and your company. Our firm brings problem-solving expertise with a unique collection of skills, ideas, industry experience, and technological resources to manage your business risks and help you define your organization's needs and expectations. We continuously measure performance according to these standards.
Contact Info
The Potter Financial Group 1816 Front St Suite 220
Durham, NC 27705-2582

A light has been added at the Loehmann's Plaza. This light allows you to make a left u-turn and then the next right would be Front Street. If you would prefer not making the u-turn, you can also continue down Hillandale to Carver Street. Take a left onto Carver Street and then the first left would be Front Street.
Map and Directions
Phone: (919) 383-7421
Toll free: (800) 545-5830

Fax: (919) 383-6284